ESD Moisture Barrier Bag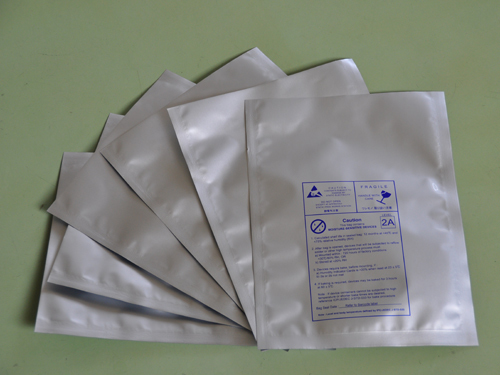 ESD Moisture Barrier Bag
Product Description
Leading the existing industry with innovatively designed products, our organization is considered as one of the most reliable manufacturer, supplier, importer and exporter of ESD Moisture Barrier Bag. The fabrication is done to serve various packaging industries for dry packing different electronic devices from any kind of foreign particles and moisture. Multiple level of polyester film is used together to form it and thus, offers optimum protection against moisture and static damage. ESD Moisture Barrier Bag is tested on several quality tests under the strict guidance of our professionals.
Features:

ESD Moisture Barrier Bag releases the electrostatic field steadily, in a risk-free way, due to the faraday electric cage shielding construction, which is more than the usual average of 60db.
Guarantee of 12 months shelf life
Pure aluminum is used to make the metal layer. It has suitable light isolation and moisture barrier.
Inner items in the bag are protected with it's property of good moisture barrier
Customization is provided such as gusset bag, zip-lock bags, open-end bags etc.
Applications:

Used for vacuum packing of various products like chemical raw material, medical intermediate, precise equipment, static sensitive electronic components, and others.

Service and Quality Control:

All types of printing services are offered
Different thicknesses are available
Material of construction is as per environment requirements of EU and North America (on the parameter of "packaging")
Special material structure can be customized
Testing reports via third-party can be provided
Technical Specification:
| | |
| --- | --- |
| Material Composition | PET/AL/NY/PE |
| Inner Surface Resistivity | <1011 Ohm /Square |
| Outer Surface Resistivity | <1011 Ohm /Square |
| Water Vapor Transmission Rate | <0.005g/(m2 d) |
| Heat-Seal Temperature | 160+/-10 |
| Heat -Seal Pressure | 70Pa |
| Heat -Seal Time | 1.5s |
Contact Us
Room 415, Building 1, Shunda Mall, SIP, Suzhou, Jiangsu, 215123, China
Phone :+8613913191343